Course details
If you can enjoy the taste of Kagoshima luxuriously here «Black pig Shabu shabu [liberation] & 2 H [drinking course] course» \ 4480 (tax excluded)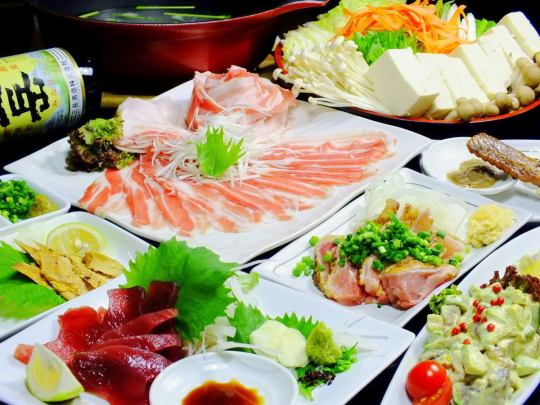 By using a coupon4480 yen
All-you-can-drink available

All-you-can-drink course
Reservation deadline

Until 23 o'clock the day before the store visit date
Available days for reservation

Monday - Sunday - Public holidays - Holidays
If you want to taste Kagoshima luxuriously, this course is recommended !!! All you can eat black pig shabu-shabu at 3480 yen normally, 3 points of Kagoshima using soup made from Makurazaki (sashimi, baked belly, belly leather).It is a luxurious course with A5 ranked Kuroge Wagyu beef!
Course menu
【Example】 ※ The content varies according to purchase.
● Black pig shabu-shabu (all you can eat)
● Vegetable Sheng
● 2 kinds of skewers
● 3 points in Kagoshima
· Fermented bonito sashimi
· Bonito bonito's abdominal skin
· Baked skipjack with bonito bonito
※ "ぶ ん ん" is what the "saltless" has gotten grubby, it is a synonym of fish with high freshness!
A fishing fishing boat in Makurazaki in Kagoshima ken lives and tightens every time it gets caught and it frozen quickly, so freshness is different!
For sashimi, please wear a little soy sauce and taste dirty feel.
In the belly skin and baked belly, beer and shochu from Kagoshima advance.
★ ★ A5 ranked Kuroge Wagyu beef ★ ★
Broiled Satsuma local chicken
● Tamagoyaki
● Seasonal salad
● Marinated chicken
Kagoshima 3 points where you can taste such "bonito bonito" as much as possible is a dish of value to eat!
It is only here to eat on course !!
All-you-can-drink menu
·draft beer
· Asahi Super Dry · Sapporo Black Label
· Shochu
· Watanabe Others (Brands may vary depending on purchase situation.Please ask a clerk.)
· Shochu high
Various
·Fruit wine
· Various (rock · soda split · ginger split)
·wine
·Red and white
·whisky
·Highball
·Soft drink
Various
2018/11/30 update