DETAIL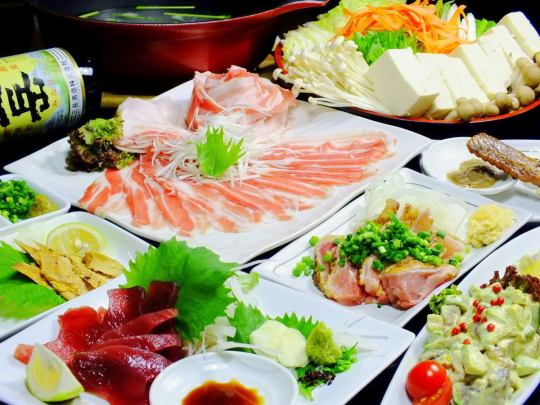 Click here if the luxury to enjoy the taste of Kagoshima! «Shabu black pig [Shokuho] & 2H [drinking release] course» \ 4480 (tax)
By using a coupon
4480 yen
More and more to the black pig shabu-shabu all-you-can-eat here of course if you want luxury taste Kagoshima is recommended !!! usually ¥ 3480, a three-point prime of Kagoshima using the Buen bonito of Makurazaki production (sashimi, grilled spawn, belly leather).Luxurious course that comes with further A5 rank of Japanese beef!
Menu
[An example] ※ different contents by the purchase.
● Shabu black pig (all-you-can-eat)
● vegetables Sheng
● Skewers two
● Kagoshima 3-point prime
- Buen bonito sashimi
- Buen bonito of the abdominal skin
- Buen bonito baked spawn
※ The "Buen" be "salt-free" is dull, is synonymous with high freshness fish!
Tighten alive each time lifting the pole and line fishing vessels of Kagoshima Prefecture Makurazaki, since the rapid freezing, and the difference is freshness!
With a little bit of soy sauce in the sashimi, please taste the tactile sensation that was Motchiri.
It will advance beer and Kagoshima shochu in the abdominal skin and baked spawn.
★★ A5 rank of Japanese beef ★★
● of Satsuma chicken grilled
● fried eggs
● seasonal salad
● marinated chicken
One dish of a worth eating Kagoshima 3-point height that can taste the very best such "Buen bonito"!
!! Only here to be eaten in the course
Coupon that can be used
Fluent in Kagoshima's taste ☆
«Black pig Shabu shabu [liberation] & 2 H [drinking course] course >> \ 3980 (tax not included) / \ 4480 (tax excluded)

Presentation conditions

At the time of booking

Conditions of use

Reservation up to the previous day / 2 hour system / 4 people ~ ※ Weekdays for 2 people ~ OK

Expiration date

Until the end of February 2018